Witcher 3 Geralt of Rivia Costume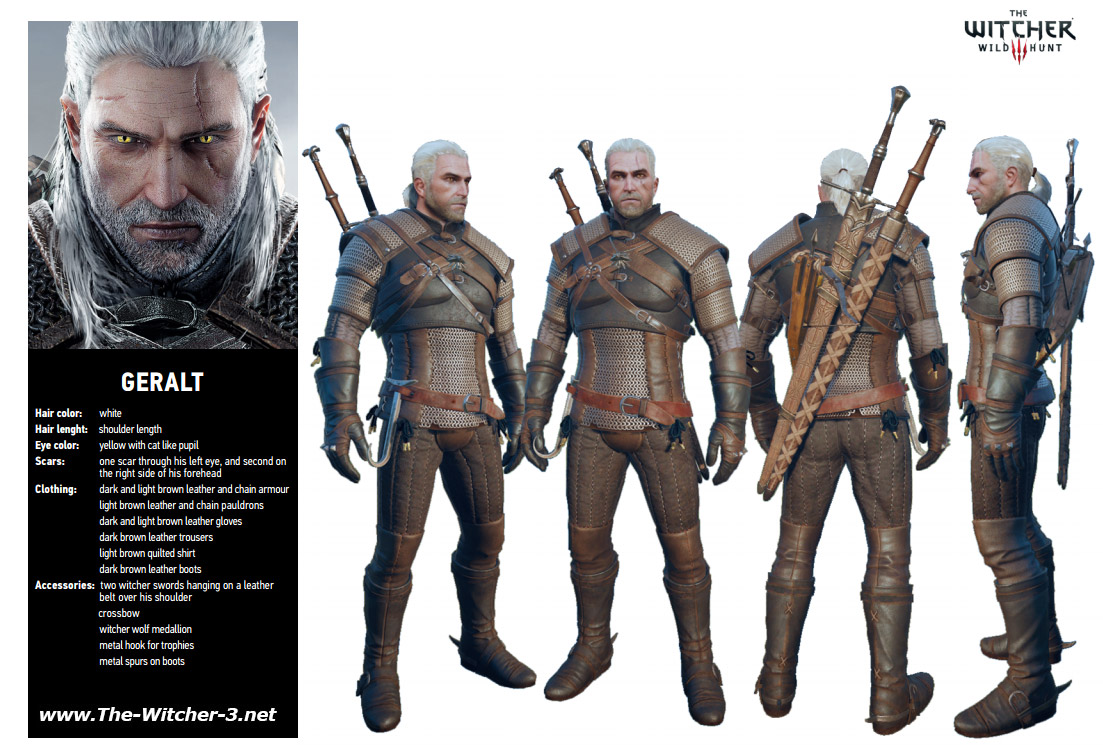 Witcher 3 Geralt of Rivia Costume
Del Nero Designs is excited to announce that we have been commissioned to build Geralt of Rivia's Costume from Witcher 3. We will be building the entire costume minus the swords (which may be commissioned later). Once completed components such as the Chest Armor and gloves may be offered separately and will be listed in my store as the build goes.
Update 11/14/15
Work on My Witcher 3 Geralt of Rivia Costume has begun. I am starting with the Silver Sword.Given to Geralt at the beginning of Chapter II to fight The Beast of the Sewers. A silver sword is one of the two main tools of the witcher. It is a delicate blade only used against creatures who are vulnerable to silver, such as the undead and most types of monsters. It is light enough to be wielded in only one hand, leaving the other hand free for another weapon or for the casting of Signs.
The witcher's silver blade actually has a steel core which is plated with a thick layer of silver which is lethal to magical beasts. This weapon was made specifically for slaying monsters born of magic, those which can not be hurt with common steel weapons.
Update 12/07/2015
Started working on the Witcher 3 Geralt of Rivia Costume leather chest armor and chain-mail pauldrons. Started by forming a chest on my Male dress form and molding wet leather around it. Once dry I refined the shape and hand dyed and stitched it. Still need to bind the edges, add eyelits, straps and buckles.
The Pauldron's have been started hand stitching is required to bind the chain-mail to the leather base and there is all the hand whipped stitching on the top portion. Hours of work..but can be done while watching TV so time goes by quickly. See images below:
Update 12-16-15
Work on the leather chest armor is coming along nicely, love the stitching even though its alot of handwork.
Update 1-31-2016
Work on the Witcher 3 Geralt of Rivia Costume Armor continues pauldrons looking fantastic working today on the cross belts for it see images below:
Update: June 26th, 2016
Have been super busy making my Witcher 3 Geralt of Rivia Costume and have not updated this website. A massive collection of photos of this costume can be seen on my Instagram acct just search "CostumeBiz" or click here CostumeBiz on Instagram
Update July 7th, 2016
We Took my Witcher 3 Geralt of Rivia Costume to Anime Expo and Competed in the Masquerade. We were awarded Best Construction! Had a great time thank you to everyone at Anime Expo and the Sponsors of the Masquerade. Below are pictures taken at Anime Expo.
Update: July 9th, 2016
Geralt of Trivia
Below is the video from Anime Expo where Geralt of Rivia was the hypeman for "Geralt of Trivia".
AX Masquerade Highlights 2016
Update: July 26th 2016
Geralt at San Diego Comic Con
Geralt of Rivia and company competed in the 42nd Masquerade at SDCC check out our performance below. Geralt cut loose a little waiting to go on stage here are some of the pics.
Here are images taken by Manny Llanura: