Skyrim Death Lord Draugr Costume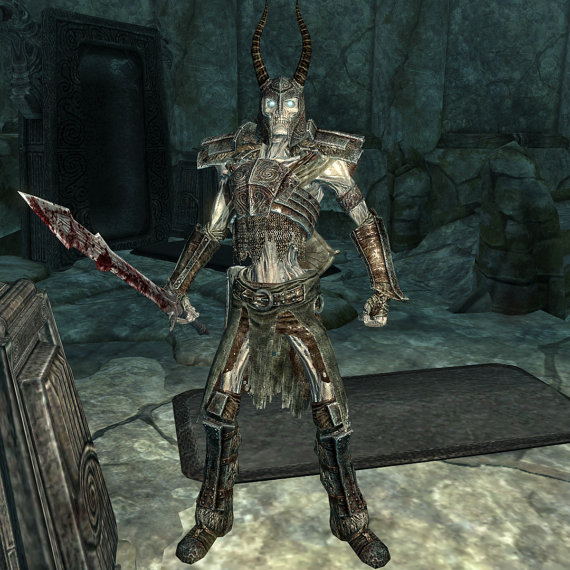 Skyrim Death Lord Draugr Costume
I was incredibly fortunate to be commissioned to make A Death Lord Draugr from the Skyrim Edlers Scrolls Saga.
The build started in November of 2016 and was completed in June 2017.
Here's a little back story on the Death Lord Draugr characters:
Draugr
Draugr's are monsters within the game Skyrim. They are a type of undead that are often found in the Nordic Ruins. They "wake up" when the player enters their line of sight; or entering the rooms in which they are interred. They wield ancient Nordic weapons. They are immune to poison and have a frost resistance of 50%. They are susceptible to fire spells.
Draugr's come in 5 varieties. In order of increasing toughness: Overlord, Wight Overlord, Scourge Lord, Deathlord, and Death Overlord. Note that there are two varieties of Death Overlord one higher levelled than the other.
The  Draugr Deathlord is a variant of draugr found in Skyrim. It is one of the most powerful types of undead, and serves as the most powerful foe in many draugr-infested dungeons.
Levels
Deathlords become common around level 30, but they may be encountered beforehand, but only in certain locations. If the quest Under Saarthal is done above level 15, one will be encountered at the top of two stairways in the heart of Saarthal.
Arcwind Point has a high chance to spawn a Deathlord, even at low levels. Yngol Barrow, Silverdrift Lair, and Yngvild are also amongst the tombs that have a higher chance to spawn a Deathlord as a boss at low player levels.
Combat
Deathlords use ebony or ancient Nord weapons which may also be enchanted, increasing their effectiveness. They all use shouts, such as Unrelenting Force and Disarm. Deathlords are known to use Unrelenting Force with very short intervals, constantly throwing their foes about.
The deathlord archer is one of the most dangerous foes encountered in Skyrim. In addition to their high health and stamina, the ebony bow coupled with the matching ebony arrows can deal large amounts of damage per shot, taking down even the highest level targets with only a few hits.
Possesions
The draugr deathlord may have any of the following items:
A small amount of gold
Bone meal
Ores or ingots
Precious gems
Courstesy of http://elderscrolls.wikia.com/wiki/Draugr_Deathlord_(Skyrim)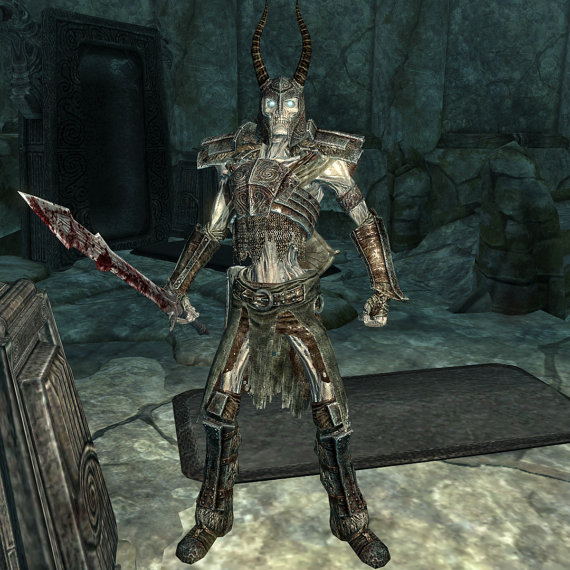 Making the Skyrim Death Lord Draugr involved many medias and machinery. I used my Laser cutter to cut out the details of the armor.

Plastismithing a technique I use to create texture and laminate it to foam structures to create armor.





From the Plastismithed pieces I create mold masters which are then cast in Urethane plastic using slush molds.









The cast armor pieces are then painted antiqued and assembled to create the finished Draugr Death Lord Costume. The entire process took 9 months to complete working on it part time.






Skyrim Death Lord Dragur Long Beach Comic con 2017

Won Best Construction out of 50+ contestants


Return to Skyrim Skit San Diego Comic Con Masquerade 2017