Issac Clark Dead Space 3 Costume at Comic-con 2014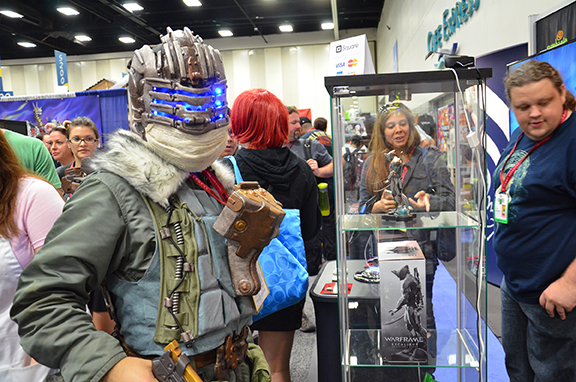 Issac Clark Dead Space 3 Costume at Comic-con 2014
Attended Comic-con 2014 in style this year introducing my new work the Issac Clark Dead Space 3 Costume.
It was great to see the reaction from the fans of the game as many of them chose to pose in the pictures with my Issac Clark Costume.
Although I ran out of time to finish the costume how I had intended,  what I did manage to complete was well received and people quickly identified the character.
Helmet:
I started to work on the Issac Clark Dead Space 3 Helmet almost a year ago and labored on the hard lines and inorganic nature of it. I am much better creating symmetrical machine looking items using  vector drawing programs and CAD drawing programs like Maya, but since I could not afford to 3D print it I opted to sculpt it in clay and cast it.
The Helmet may not be perfect but I think it turned out pretty dam good. The great thing is that the way I designed it, so that you had to cut away portions of the helmet to make the plates look as though they were floating provided a much welcomed ventilation system so I opted to leave the gaps open. Check out the top view of it in my online Etsy store.
This helmet has to be the most comfortable and coolest wearing I have made so far. I  drilled dozens of holes in the front mouth area under the fabric portion to allow for breath to escape.
The LED's took a while to find, they are tiny focused Hyper Bright Blue ones designed for the computer industry often used in water cooled systems. Foam pads covered dark fabric
complete the fit.
Check out images of the costume in action and a video below:
Dead Space 3 Issac Clark Costume Comic-con 2014