Dead Space 3 Isaac Clark Costume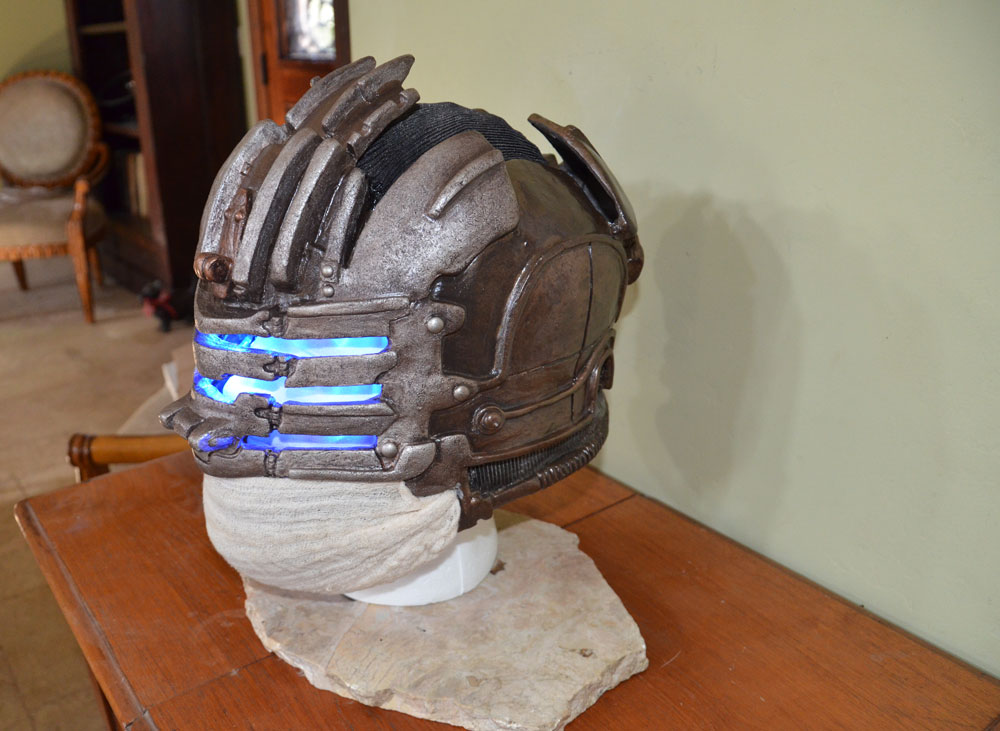 Dead Space 3 Isaac Clark Costume
Work on the Dead Space 3 Isaac Clark Costume continues in earnest. I am now working with Worbla a Thermo Plastic designed for the footwear industry. You can use hot air, water or steam to shape the Worbla however you want. Scraps can be conditioned and 100% re-blended, so there is almost no waste. These leftovers can be molded to act just like putty.
Worbla hardens very fast, can be sanded, and because of the extra glue on the shiny side it is very easy to attach several layers. You can choose to work with more layers right from the start of a project, or line thin parts later.
Additional components can be attached very easily with no extra glue needed.
You can finish Worbla's Finest Art with various effect spray-paints and acrylics. For a perfectly smooth finish, a plastic primer or other base coat is suggested.
I am also working with Electro Luminescent wire on my Dead Space 3 Isaac Clark Costume – AKA EL Wire (it is a thin copper wire coated in a phosphor which glows when an alternating current is applied to it. It can be used in a wide variety of applications—vehicle and/or structure decoration, safety and emergency lighting, toys, clothing etc.—much as rope light or Christmas lights. Its thin diameter makes it flexible and ideal for use in a variety of applications such as clothing or costumes. I am also working with Hyper Bright Led's and UV Luminescent water cooling computer cooling liquid.
Update July 8th 2014 Dead Space 3 Helmet
Work continues at break neck speed to hopefully complete my Issac Clark Costume from Dead Space # by Comic-con. Tensions are running high but I am hopeful I can pull this one off. See images below of the Dead Space 3 Issac Clark Helmet sculpt just about finished and ready to make a mold of.
Update: July 21-14
Issac Clark Dead Space 3 Helmet Completed!